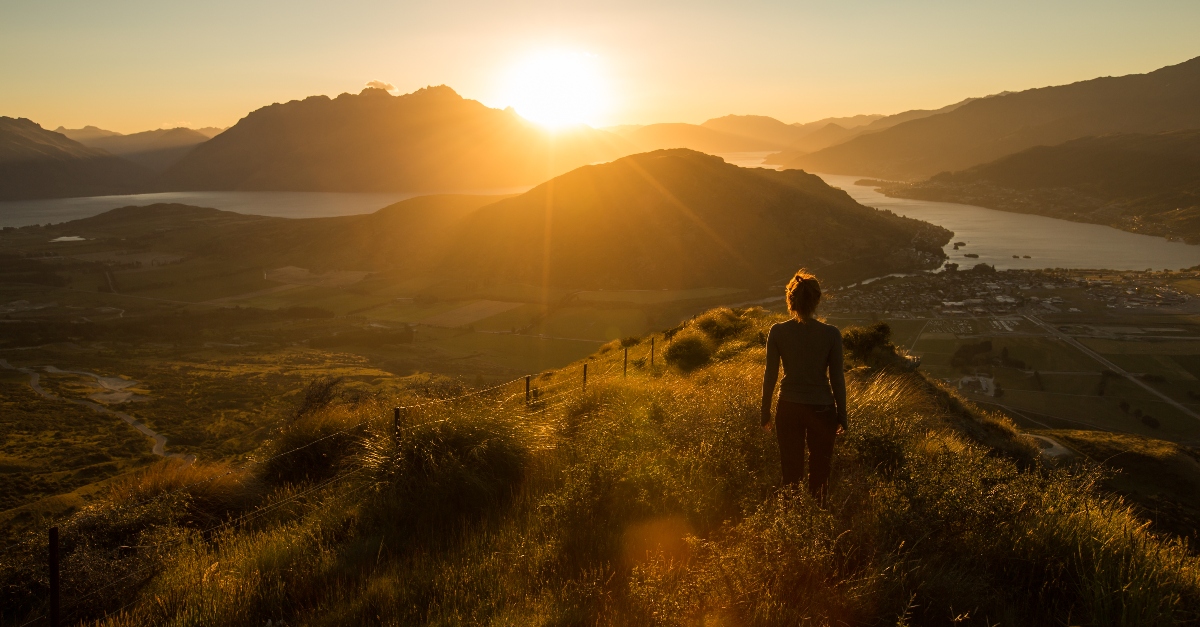 PROVIDENCE IS AMONG THE most frequently misunderstood words in Christian theology. According to Merriam-Webster, providence can be defined as "…divine guidance or care" or "God conceived as the power sustaining and guiding human destiny." The word is also used to identify "God," "deity," or "divine superintendence." Admittedly, providence as a word does not appear in Scripture. Wayne Grudem believes providence refers to the biblical reality revealed through the entirety of Scripture regarding God's ongoing relationship to His creation (1). Providence teaches that God is separate from Creation, but continually involved with all created things. Specifically, God keeps things existing and maintains the very properties with which He created them; He cooperates with created things in every action, directing their distinctive properties to cause them to act as they do; and He directs them to fulfill His purposes (2).
If providence refers to God's divine guidance and care, it is this attribute that causes detractors, skeptics, and atheists to cry out, "How can an all-loving and all-powerful God allow evil in the world?" There are several very profound and adequate responses to this challenge, and I will touch on them shortly. First, however, I feel compelled to begin this "apologetic" at Genesis 1:1: "In the beginning, God created the heavens and the earth." Prior to this moment, nothing existed. Nothing, that is, except the Godhead: Father, Son, and Holy Spirit. This "trinity" is called us. Genesis 1:26: "Let us make man in our image, after our likeness" (italics mine). When God called us "man" He was not merely labeling that portion of Creation; rather, He was stating the very essence of that part of Creation. Part of that essence includes the image of God. Most biblical scholars and theologians consider the "image" of God to mean God's capacity for creation, love, goodness, sacrifice, companionship, stewardship—crowned with honor and glory as ruler of the earth; God's representative to all of Creation.
Much of the confusion regarding the problem of evil results from misunderstanding. God's attributes do not include evil, which suggests He does not resort to evil as punishment. But God does withdraw His protection during times of disobedience. We will face adversity in this life, as we are prone to disease, mental distress, emotional turmoil, and physical death. It is during these times we should cherish God more. Admittedly, it is difficult during such times to believe God is in control of the situation and all things work together for good. It is we who make the assumption that God should not allow evil. It is we who choose that which is "not good," thereby reaping the consequences of our actions. Jeremy Myers writes, "Frequently, due to sin, rebellion, and the other factors, God simply withdraws His protective hand and allows sin, Satan, and chaos to have their way" (3). Myers says when we misuse the freedom and power we have been given, God does not (indeed cannot) simply stop us, for then it would no longer be genuine freedom or power.
It is man's initial disobedience and rebellion that created the chaos we see all around us. Adam was given stewardship over the entirely of Creation (see Gen 1:28). Satan, in the form of a serpent, tempted Eve to disobey and eat the forbidden fruit from the Tree of Knowledge of Good and Evil, and Eve tempted Adam to do the same. It is important to note Eve's misunderstanding of God's command, as she added nor shall you touch it. As I stated above, from the beginning, there has been confusion regarding what constitutes evil or disobedience. God said not to eat the fruit or Adam and Eve would surely die. When tempted with the opportunity to "…be like God, knowing good and evil," Eve made the decision to "see for herself" what is good and what is not. Ravi Zacharias says that at this point, our First Parents rejected "vertical" relationship with God (heavenward) in exchange for making their own decisions.
A search for Scripture references regarding evil led me to Isaiah 5:20: "Woe to those who call evil good and good evil, who put darkness for light and light for darkness, who put bitter for sweet and sweet for bitter!" Looking back to the beginning of the fifth chapter of Isaiah, we see that Israel is God's chosen people, whom He set in a very fertile vineyard in soil cleared of stone. Despite God's favor, the Israelites failed to yield viable fruit. In judgment, God removed His protective hedge surrounding the vineyard, allowing the consequences of disobedience to play out. God's hope is always to teach His chosen the results of choosing to do wrong. Isaiah writes, "…and he looked for justice, but behold, bloodshed; for righteousness, but behold, an outcry" (5:7). A footnote in the ESV Study Bible says, "[God] aims to show that sin does not simply fail to reach a standard, it distorts good into evil" (4) (italics mine).
Isaiah further says, "Therefore, Sheol has enlarged its appetite and opened its mouth beyond measure" (5:14). It is as if Hell (and Satan) "step it up" and pull man in, leading to disobedience and (in some extreme cases) apostasy. The footnote says what sets God apart "…is his exalted moral character. He is not merely a provider who is useful to humans; he is holy in himself, and he proves it by enforcing his moral character" (5). The LORD is exalted in justice, and the Holy God shows himself holy in righteousness (5:16). Isaiah describes man calling good evil, and evil good; darkness light, and light darkness (5:20). He then says, "For they have rejected the law of the LORD of hosts, and have despised the word of the Holy One of Israel. Therefore the anger of the LORD was kindled against them and struck them… for all this his anger has not turned away (5:24b, 25b). This is not an example of God "doing evil," but God's response to man's disobedience. Paul says, "Do not be overcome by evil, but overcome evil with good" (Rom. 12:21).
God is not a "heavenly dictator" who directs our every thought and action; instead, He cooperates within each situation to assure the maintenance of Creation in accordance with His divine will. This allows for a deeper understanding of Romans 8:28: "And we know that for those who love God all things work together for good, for those who are called according to his purpose." Hebrews 1:3 tells us Jesus Christ is the radiance of the glory of God the Father and the exact imprint of the Father's nature; Jesus upholds the universe by the Word of His power. The Greek word pherō used here signifies "to carry or bear," referring to Christ continually carrying all things along. Paul says, "For by [Christ] all things were created, in heaven and on earth, visible and invisible, whether thrones or dominions or rulers or authorities—all things were created through him and for him. And he is before all things, and in him all things hold together" (Col.1:16-17, ESV). These attributes rightly belong to God.
Everything in creation is under the providing care of God. Not only does God supply all things, He arranges them according to His plan for His glory.
T.H.L. Parker writes, "The doctrine of providence tells us that the world and our lives are ruled not by chance or fate but by God, who lays bare his purposes of providence in the incarnation of his Son" (6). The Bible uses ad hoc descriptions like "He gives good to every creature" (Psa. 136:25), and "He makes springs pour water into the ravine (Psa. 104:10), expressing how God's mighty acts provide for Creation. Through Christ, God becomes the God of the people. Parker says providence may be seen from three perspectives. First, Creation is the stage upon which God enacts dealings with man, including the gracious outworking of His purpose in Christ. From the beginning, God ordered the course of events toward Christ. In fact, His plan for redemption is first laid out in Genesis 3. Second, God's providence has served as bearing witness to the heathens (see Acts 14:17; 17:22-30; Rom. 1:18-23). Providence is included in the doctrine of reconciliation. Third, God not only gives life but preserves man while he is on earth. He is both God of the soul and God of the body.

We can never see the bigger picture in the way that God sees it. He is with us in our suffering and also sees the end from the beginning in ways we cannot imagine. Hard as it is to imagine, God does not wish for us to suffer at the hands of the enemy. Kevin J. Vanhoozer emphatically believes the doctrine of providence affirms an ongoing divine concern for and activity in the world subsequent to its original creation. He reiterates Parker's threefold distinction regarding providence, labeling it thusly: (i) conservatio (God orders all that comes to pass according to His final purpose; (ii) concursus (God is co-active in all that comes to pass); and (iii) gubernatio (God orders all that comes to pass according to His final purpose). Vanhoozer writes, "Apart from the doctrine of providence, the idea of God would be largely irrelevant to what is happening in the world" (7).
Steven Barto, B.S. Psy., M.A. Theology
References
(1) Wayne Grudem, Systematic Theology (Grand Rapids, MI: Zondervan, 1994) , 315.
(2) Ibid, 315.
(3) Jeremy Myers, "God Sometimes Withdraws Protection," Redeeming God: Liberating You From Bad Ideas About God (n.d.). URL: https://redeeminggod.com/god-sometimes-withdraws-protection/#comments
(4) ESV Study Bible (Wheaton: Crossway, 2008), 1248.
(5) Ibid., 1249.
(6) T.H.L. Parker, "Providence of God," in the Evangelical Dictionary of Theology, 3rd. ed. (Grand Rapids: Baker Academic, 2017), 706.
(7) Kevin J. Vanhoozer, "Providence," in the Dictionary for Theological Interpretation of the Bible (Grand Rapids: Baker Academic, 2005), 641.