IT IS DIFFICULT TO image being clothed in the righteousness of God. Exactly how does that happen? How can we possibly be worthy enough and pure enough? Lauren Daigle opens her song You Say with these lyrics: "I keep fighting the voices in my mind that say I'm not enough" (1). This was my dilemma. It was as if I were living out Matthew West's "Hello, My Name Is." I had deep regret for how I lived my life. There was an endless whisper in my ear, saying I would never rise above my past. Feeling defeated, I lost all hope. When I stumbled across Martin Luther's struggle with righteousness, I learned that spiritual redemption and maturation hinges on understanding Romans 1:17—not only have we been saved, changed, and set free, we have "right standing" before God. We cannot earn this righteousness; nor can we wash our own filthy rags (see Isa.64:6). When redeemed, God sees us clothed in the righteousness of Christ.
Martin Luther
Luther is principally known for two significant events in the history of the church. The first, in 1517, was his posting of the 95 Theses at Wittenberg, criticizing the power grab of the papacy, especially regarding "indulgences." The second was his unyielding "apologetic" defense at the the Diet of Worms in 1521 where he faced charges of heresy. Refusing to recant or rescind his positions, Luther was declared an outlaw and a heretic. Perhaps one of the most interesting details about Luther's supposed insurrection against the Pope is that he never intended to create a movement or break from the Roman Catholic Church; he merely set out to reform the practices of the Church that were in opposition to Scripture. Here are a few of his more critical objections:
repentance cannot be understood as referring to the sacrament of penance, that is, confession and satisfaction, as administered by the clergy (No. 2)
the pope neither desires nor is able to remit any penalties except those imposed by his own authority or that of the canons (No. 5)
the pope cannot remit any guilt, except by declaring and showing that it has been remitted by God; or by remitting guilt in cases reserved to his judgment (No. 6)
those priests act ignorantly and wickedly who, in the case of the dying, reserve canonical penalties for purgatory (No. 10)
indulgence preachers are in error who say that a man is absolved from every penalty and saved by papal indulgences (No. 21)
I believe the most significant spiritual/theological event in Luther's history is his struggle with the meaning of Romans 1:17: "For in it the righteousness of God is revealed from faith for faith, as it is written, 'The righteous shall live by faith'" (ESV). Luther had to resolve his consternation over Romans 1:17 and come to understanding the righteousness of God before he could be properly oriented toward reformation of the church. Following the example of great monastic leaders, Luther frequently punished his body and denied himself even the simplest of comforts in hopes of earning his salvation. He flogged himself, went outside in the winter without a coat or shoes, and lived in fear that he would forget to confess a sin. If he died in his sleep with unconfessed sin, he thought he would be condemned to Hell.
Having an a-ha moment, he came to understand it is by grace, through faith alone in Christ alone, that the believer is clothed in righteousness (Gen. 15:6; John 3:18; Rom. 3:22). Luther wrote in the preface to his Commentary on Romans, "God judges according to what is at the bottom of the heart, and for this reason, His law makes its demand on the inmost heart and cannot be satisfied with works." He added, "Grace means properly God's favor, or the good-will God bears us, by which He is disposed to give us Christ" (2) (italics mine). We see faint rumblings of Luther's objection to papal indulgences in the following sentence: "If [the servant of Christ] fails in faith, he will prove himself a tyrant who terrifies the people by his authority and takes delight in being a bully." Regarding Romans 1:17, Luther wrote, "God's righteousness is that by which we become worthy of His great salvation, or through which we are (accounted) righteous before Him… the righteousness of God is the cause of our salvation" (3).
Many have taken the Christian faith to be a simple and easy matter and have even numbered it among the virtues. This is because they have not really experienced it, nor have they tested the great strength of faith—MARTIN LUTHER.
The year 2017 marked the 500th anniversary of the Protestant Reformation. Many believers, and even some notable scholars and church leaders, question whether the Reformation is still relevant. Consider this: Scripture alone (sola scriptura) is still Christianity's supreme authority for doctrinal matters. Consider, also, that Western culture has become increasingly post-Christian. Evangelism and Christian charity have lost their dominant influence. To lose sight of the primacy of core Christian fundamentals is tantamount to foregoing the Great Commission. The Reformation still matters today because the gospel alone is the only hope for sinners. Justification is not an "ongoing process" tied to faithful participation in sacraments or any other "work" undertaken by believers. Justification is by grace alone (sola gratia) through faith alone (sola fide) in Christ alone (sola Christus). Any teaching to the contrary is anathema to the gospel. Also, the Reformation is still vital today because the church is still in need of reformation.
Paul and Righteousness
Paul said, "I am not ashamed of the gospel, for it is the power of God for salvation to everyone who believes, to the Jew first and also to the Greek. For in it the righteousness of God is revealed from faith for faith, as it is written, 'The righteous shall live by faith'" (Rom. 1:16-17, ESV). The phrase "from faith for faith" means beginning and ending in faith. Matthew Henry says Romans 1:16-17 reveals the design of the whole epistle, in which Paul brings a charge of sinfulness against all mankind, and declares the only method of deliverance from condemnation is by faith alone in Christ alone (4). James Arlandson writes, "Is righteousness imputed? (Yes). Is it imparted? (Yes). Can it mean vindication? (Yes). Justice? (Yes). Holiness? (Yes). Declared not guilty in a forensic or courtroom setting? (Yes). Putting things right in a covenant context? (Yes). The same word righteousness and its cognates mean all those things, depending on the context" (5).
Paul wants us to understand that the gospel is nothing less than the power of God. "Power" here refers to the effectiveness of the gospel to save us from our sinful past—referring to something of which we are desperately in need (6). Judaism taught that the Law has power. OT believers, however, had salvation through forward looking faith in the coming of Christ as Messiah. This is a truly remarkable faith! Today, we have the New Testament to shim up our backward looking faith that Christ came to redeem us as reported in the Bible. Jesus is the "good news" (the gospel) Isaiah wrote about: "How beautiful upon the mountains are the feet of him who brings good news, who publishes peace, who brings good news of happiness, who publishes salvation, who says to Zion, 'Your God reigns'" (Isa. 52:7). On the lips of Jesus, the gospel speaks of the advent of His kingdom and His glorious eternal reign. This good news is the good news of the kingdom.
At the core of Paul's teaching in the book of Romans is redemptive righteousness, which comes from the heart of God's purposes for mankind. R.C. Sproul writes, "Augustine [of Hippo] said that when Paul speaks of the righteousness of God in Romans 1, it is not the righteousness by which God Himself is righteous, but the righteousness that He freely gives to those who put their trust in Christ" (7). This is the doctrine of soteriology (salvation), namely justification by faith alone. Paul's teaching uses the imagery of a court of law. The verb usually translated "justify" (dikaiologó) is from the same root as the Greek word (dikaiosunē) translated "righteousness." These words signify being declared by a judge to be "in the right;" having a right relationship restored. Paul tells us the gospel is the power of God for salvation to everyone who believes, to the Jew first and also to the Greek (Rom. 1:16). One who lives by faith is a righteous person in the sight of God.
Romans 6, 7 & 8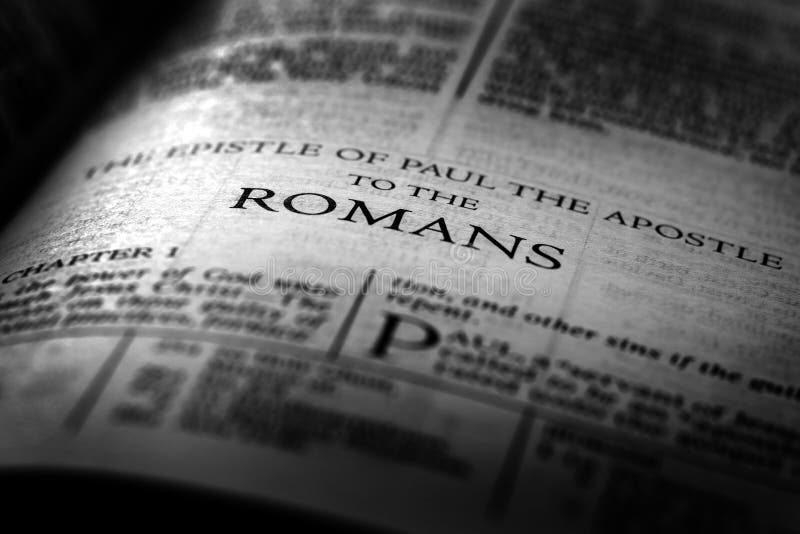 Romans 1:17 is the interpretative key to understanding the unfolding message presented in the entire epistle. Everything in the Book of Romans proceeds from this one verse. Righteousness can never be earned through behavior. Instead, the Law reveals our helpless predicament: through the sin of one man, Adam (see Rom. 5:12) we lost direct communion with God.
Paul tells us no one is righteous; not even one (see Rom. 3:10). We have access to the righteousness of God through faith in Jesus Christ; we are justified by God's grace as a gift, through the redemption that is in Christ. So, there is no reason for us to boast, for we all fall short of God's glory (see Rom. 3:10, 22-24). In addition, says Sproul, "…even after our conversion there is a pound of flesh in everything we do. We have never in our lives loved God with our whole heart. I am somebody who has never loved God with his whole mind. I have loved Him with part of my mind, but not all of it" (8). There is an obvious need for ongoing grace. Controversy erupted over this simple concern: If man is unjust, how can he ever withstand the just judgment of God? It is this doctrine that is central to the New Testament gospel. Hinging on Romans 1:17, Luther insisted that justification by faith alone in Christ alone is the article of faith upon which the Christian church is built. If the church fails to grasp this, the church ceases to be an authentic church—no longer a Christian body (9).
Next, Paul emphasizes the paramount importance of holiness—personal and moral. It is not merely about being "washed clean," but is about striving to remain so through turning away from sin and focusing on the goodness and righteousness of God. We are saved by free grace through the gospel, but we must not forget justification and holiness are inseparable. Paul says, " What shall we say then? Are we to continue in sin that grace may abound? By no means! How can we who died to sin still live in it?" (Rom. 6:1-2). We died to sin when we were baptized into Christ. We did not become magically "immune" to sin; rather, we admitted dying with Christ (crucifying the "old self") and rising up with Him into a "new self" who desires to avoid the practice of sin. We used to serve sin with readiness and zeal, but now we strive for "holy conduct." Lawlessness results in further lawlessness, but our righteousness in Christ leads to holiness.
Our pre-Christian life produced corrupt and perishable fruit—brought about by our sinful passions (10). We were powerless over our sinful nature. To be free from the law of sin, we had to die to what once bound us. Through justification, we become capable to doing things much differently. Let us never forget that we have been freed from the slavery of sin so that we might be bound to serving God instead. Matthew Henry writes, "So long as a man continues under the law as a covenant, and seeks justification by his own obedience, he continues [to be] the slave of sin in some form" (11). Only Christ can set the sinner free. This is possible because as believers in Christ we are under a covenant of grace, and not under a covenant of works. As Paul writes, "For by grace you have been saved through faith. And this is not your own doing; it is the gift of God, not a result of works, so that no one may boast" (Eph. 2:8-9).
Paul describes for us in Romans 7 the ruinous nature of sin, and the sinfulness of the human heart. Henry writes, "…the apostle found himself so very far short of perfection that he seemed to be carnal" (12). Unfortunately, for some time I used this section of Romans as a loophole: If not even Paul, apostle of Christ, could control his struggle with the sinful flesh, than how can I ever hope for victory? (See my article of July 25, 2019 Do You Look for Loopholes as a Christian?) However, Paul only meant to enlarge on the conflict he maintained with what remained of his sinful nature. He did not habitually walk after the flesh, but had a heart to not do so. I have heard some church leaders say Paul was merely speaking of the conflict he "used to have" before his regeneration. I do not concur. I was pleased to read Sproul's comment in this regard: "I can say dogmatically that I find absolutely no justification whatsoever for seeing here anything other than the contemporary struggle that the apostle was having with respect to his own progress in sanctification" (13).
Wretched man that I am! Who will deliver me from this body of death?
Having been redeemed, we should now serve in newness of spirit and not in the oldness of the letter (see Rom. 7:6). Luther said, "But inasmuch as he resists the evil, it is not the whole person who sins, but only a part of the person (his corrupt nature)" (14). Luther said regarding the words "I will" and "I hate," Paul was speaking of his spiritual nature; but the words "I do" and "I'm Carnal" refer to his fleshly nature. We see this in Galatians 5:17 as well: "For the desires of the flesh are against the Spirit, and the desires of the Spirit are against the flesh, for these are opposed to each other, to keep you from doing the things you want to do." In Romans 7, Paul expresses confusion over his struggle with the flesh; but not by an abstract theology. Instead, he is bewildered by his behavior. He is saying, I don't understand myself. Verse 15: "I do not understand my own actions. For I do not do what I want, but I do the very thing I hate." Sproul writes, "…when the conflict comes, many times we would rather follow the old man than the new man. In the moment, it is more desirable to sin than to obey Christ" (15).
The Answer
Thank God that, nothwithstanding the foregoing, those who are in Christ are not condemned by their sin nature. What the Law could not do, God did (see Rom. 8:3). Paul explained that it was impossible for the Law to condemn (to remove) sin, since it was weak through the flesh. Luther believed man is incapable of doing good for the sake of goodness; instead, he knows and wills good only as it is connected with his own interests. Such self-serving behavior is not good at all. When we are born of God anew, we begin to desire the things of the Spirit. We no longer live according to the old man—his wisdom, his hatred, his lusts. The Spirit of God dwells in us (8:9). Augustine said it is impossible to destroy the works of the flesh "…unless you walk in the Spirit and stop fulfilling the desires that have their origin in the flesh. The first and great gift of the Spirit is humility and meekness. Hence, what I already mentioned that the Lord proclaims: Learn from me, because I am gentle and humble of heart [see Matt. 11:29], and those other words of the prophet: On whom does my Spirit rest, but on the humble and the peaceful, and on the one who fears my words?" [see Isa. 66:2] (16).
Paul says, "…I want you to be wise as to what is good and innocent as to what is evil" (Rom. 18:19). Accordingly, we must keep our faith simple and child-like, but not "childish." His letter to the Romans digs deep into the nuts and bolts of Christian doctrine. Chapters 6, 7, and 8 expound on the essential message of the gospel. We are to be child-like in that we abandon our will and our lives to the will of God without question. Our loyalty and our service has to change from Satan to God. When we put ourselves in the hands of God, we get this promise: "And we know that for those who love God all things work together for good, for those who are called according to his purpose" (Rom. 8:28). Paul wanted the believers at Rome to live in the grace of God, from faith to faith, from life to life. Sproul concludes, "Our Christian pilgrimage begins in grace, is sustained by grace, and is finished by grace" (17).
This is how the righteous shall live by faith.
Steven Barto, B.S. Psy., M.A. Theology
References
(1) Lauren Daigle, "You Say," (2018), track 5 on Look Up Child, Warner Bros., released July 13, 2018, CD.
(2) Martin Luther, Commentary on Romans (Grand Rapids, MI: Zondervan, 1954), xiii.
(3) Ibid., 40-41.
(4) Matthew Henry, Matthew Henry's Concise Commentary on the Whole Bible (Nashville, TN: Thomas Nelson, Inc., 1997), 1067.
(5) James M. Arlandson, ""The Language of Righteousness in Paul's Epistles," Bible.org (Aug. 31, 2015). URL: https://bible.org/article/language-righteousness-paul-s-epistles
(6) Everett F. Harrison and Donald A. Hagner, "Paul and the Church at Rome," The Expositor's Bible Commentary, Vol. 11 Romans-Galatians (Grand Rapids, MI: Zondervan, 2008), 42.
(7) R.C. Sproul, The Righteous Shall Live by Faith: Romans (Sanford, FL: Ligonier Ministries, 2019), xiv.
(8) Ibid., 73.
(9) 80.
(10) Harrison and Hagner, Ibid., 116.
(11) Henry, Ibid., 1075.
(12) Ibid., 1077.
(13) Sproul, Ibid., 200.
(14) Luther, Ibid., 113.
(15) Sproul, Ibid., 212.
(16) St. Augustine of Hippo, "Augustine on Galatians 5," Patristic Bible Commentary. URL: https://sites.google.com/site/aquinasstudybible/home/galatians/augustine-on-galatians-5
(17) Sproul, Ibid., 469.