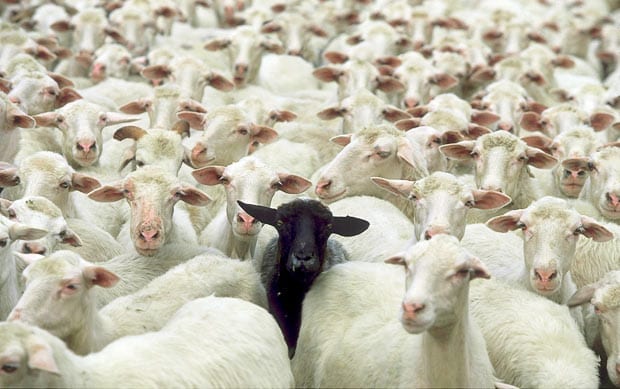 A black sheep stands out from the flock. In the English language, black sheep is an idiom used to describe an odd or disreputable member of a group. It seems nearly every family in America has one. The troubled child. A lightning rod of sorts. The center of attention. Always in the hot seat. The squeaky wheel in need of grease. Chances are, if you are the black sheep of the family, then you'll know about it. Unfortunately for you, you were born as the runt of the litter and your family isn't exactly pleased with your existence. At the very worst, you're the stereotypical black sheep – an alcoholic, drug addict, gambler, delinquent, and a constant disappointment to your family.
But not every black sheep is as dramatic as that, and it may just take something little for you to set off your family's wrath. You may be an atheist in a family of Christians, unemployed, a party animal, have trouble in school. Maybe you got your high school sweetheart pregnant the summer you both graduated. All of these attributes can make you the black sheep, and make your parents wonder where they went wrong. However, being the black sheep of the family doesn't make you a bad person, it just means that you're different. You see things differently, have you own opinions, and you're probably the only one on your side, so it feels like you're fighting a losing battle.
Perhaps some of this sounds familiar:
Your parents were more strict with you than they were with your other siblings.
Your mistakes were blown out of proportion and/or punished disproportionately.
You always carried the feeling that you "didn't fit in" with your family, and you didn't develop strong connections with them.
You were mocked, ridiculed and/or made fun of on a constant basis.
Your family seemed intent on making you feel "deficient" and as though you were always fundamentally lacking.
You developed mental or emotional disorders, and/or substance abuse problems as a result of being scapegoated and overburdened.
Your family didn't show any interest in who you really were as a person.
You were criticized, completely ignored, or or emotionally manipulated if you rebelled in any way.
The role we played as children and young adults in our families contributes immensely to our present sense of self-worth, feelings of social approval, and our psychological and emotional well-being at large. If you're like me, you may have got stuck in a role that undermined your sense of being a fundamentally "good" and "acceptable" person deep down, something that still affects me to this very day.  You may find yourself identified as the trouble child or the black sheep of your family, and this may cause you a lot of shame and depression in your life. Families often focus on the behavior of one child who seems to struggle with behaving properly. Dysfunctional families tend to avoid their own internal pain, disappointments and struggles by pointing the finger at another family member as the cause for all the problems they experience.
I took a class on marriage and family last semester at Colorado Christian University. The core textbook for the class, The Family: A Christian Perspective on the Contemporary Home (Balswick & Balswick, 2014), indicates that it's critical for children to develop into their own unique selves within the context of family unity. Family scientists and counselors refer to this as differentiation – the process of maintaining a separate identity while simultaneously remaining connected in relationship, belonging, and unity. Another way to describe this process is interdependency.
Balswick & Balswick believe that family relationships involve four sequential (non-linear) states: covenant, grace, empowerment, and intimacy. Covenant has to do with commitment to family members, and hinges on unconditional love. Grace involves forgiving other family members and being unforgiven by them. Certainly, from a human perspective, the unconditional love of God makes no sense until we look at it through the eyes of grace. Grace is truly a relational word, and means unmerited favor. John Rogerson (1996) takes the understanding of grace as a natural extension of convenant love and applies it to family life. He believes the family unit to be "…structures of grace…social arrangements designed to mitigate hardship and misfortune, and grounded in God's mercy."
Family relationships, as designed by God, are meant to be lived out in an atmosphere of grace, not "law." Family life based on contract leads to an atmosphere of law, and is a discredit to Christianity. Christ came in human form to reconcile the world to God. This act of divine love and forgiveness is the basis for human love and forgiveness. We can forgive others as we have been forgiven. It is the love of God within that makes this possible. Of course, humans are limited and fallen. We can never fulfill the law. Thankfully, we are free from the law because of Christ's perfection and righteousness, which leads to our salvation. When it comes to family relationships, none of us can expect to measure up. In a family based on law, the members demand perfection of one another.
Shame is often born out of a fear of unworthiness or rejection. When shame is present, family members put on masks and begin to play deceptive roles before one another. Children who experience the wrath of a parent on a nearly daily basis try to escape that wrath by employing various avoidance behaviors, such as lying, hiding, and deception. However, when family members experience convenant love, grace, and empowerment, they will be able to communicate confidently and express themselves freely without fear. Typically, family members should want what is best for one another. There must first be an atmosphere of unconditional covenant in the family, as well as open communication and honest sharing without the threat of rejection.
Inasmuch as all family members are imperfect, each with their own individual temperaments and experiences, they progress at different rates in the realization of God's ideals of unconditional love, grace, empowerment, and intimacy. That is to say, all family members fall on a continuum between hurting and healing behaviors. When families choose hurting behaviors and move away from God's way, the entire family will be negatively effected. Among the hurting behaviors in a family environment are conditional love, self-centeredness, perfectionism, fault finding, efforts to control or punish others, unreliability, denial of feelings, and lack of communication. With such behaviors, the focus is on self rather than on the best interests of the other family members. When children are raised in this type of family, they are limited in their ability to love others unconditionally.
Hurting families tend to withhold grace, often demanding unreasonable perfection, and blaming those members who don't measure up. Individuals in these families fear they will make a mistake and be rejected because of failure to meet the standards. So they try harder to be perfect. What they need is acceptance for who they are, and forgiveness when they fail. Members of hurting families are typically not able to get in touch with their feelings. Their fear of rejection keeps them in denial of their emotions. What they need most is a safe atmosphere in which they can express their feelings, thoughts, wants, and desires, and be heard and understood by the other family members. Open communication helps each person share more honestly rather than hide feelings and thoughts.
A child who was loved conditionally (with strings attached) needs to experience unconditional love in order to feel lovable. This would go a long way to break the perpetual cycle found in hurting families. Such a breakthrough is predicated upon receiving God's unconditional love. Being cherished by God no matter what you've done gives you a sense of self-worth and a new self-perception. ("I am lovable!") Drawing on the Holy Spirit and maturing faith, the individual now has reason to follow God's example and adopt healing behaviors. Living in covenant love is a dynamic process. God has designed family relationships to grow from hurting to healing behavior. As families accomplish this, it helps family members to eventually reach out to people beyond the boundaries of the family.
Conclusion
We know what the black sheep of the family looks like. He's the "bad" guy who gets in trouble all the time at school, and later with the law and society in general. The "wild child" with poor impulse control who begins abusing drugs and alcohol. Someone who tends to embarrass the family by making all of the family secrets apparent to the world. Obviously, the family can't be that great if little Stevie ended up drinking and drugging and spending three years in state prison, right? No matter what the family does to undo that image, there's always Stevie to contend with. And how did he grow up so "bad" if he came from such an upstanding family?
Black sheep are basically scapegoats raised by parents who have a particular issue with morality. Either they are rigidly moralistic and can't abide the slightest infringement of the rules, or they are unable to own their own mistakes and shortcomings. They tend to project these issues onto one of their children, seeing that child as wrong, "bad," immoral, or evil. Often, the child will take on the bad, swallow it deep down into the unconscious, and then work really hard to be "good." However, having not been empowered by his parents, such a child is typically incapable of self-control.
In this type of situation, parents unwittingly react to the challenge of controlling the bad child by talking to the child. Unfortunately, this makes him feel as if it is hopeless to even consider changing. Perhaps the parents are sincerely worried about what's going on, but they don't recognize the unconscious projections that are occurring in the home. They might even show him affection during this talk. They look him right in the eye with a sincere worry about what might happen to him if he doesn't stop. The child, again taking on the emotional content of the conversation as if it belongs solely to him (as the empathic scapegoat child generally does) assumes that not only is he bad for upsetting his parents, he must be really hopeless if his parents are worried.
We can't change the past. Our childhood experiences have shaped us into the men and women we are today. Both the good and the bad parts. What we can do, however, is change the way we view our past. It is important that we make sense of our life story. We need to think about experiences in our past, and how these experiences have shaped the actions we take today and in the future. By linking past experiences to our present, we'll be able to better understand the motives behind our actions, and move forward in such a way that that our past, while remaining an integral part of ourselves, doesn't define us for the rest of our lives.